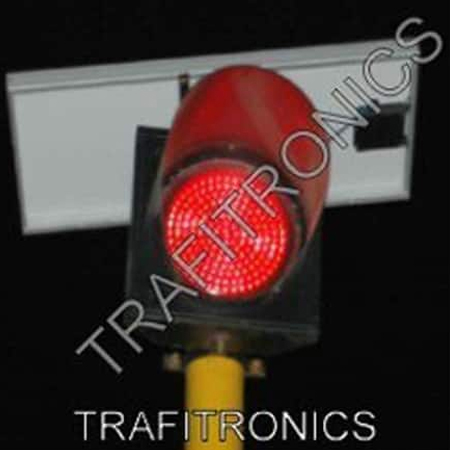 Solar LED Traffic Light
Price And Quantity
Product Specifications
Product Description
We are known for providing excellent quality solar powered Solar LED Traffic Light. The on and off modes of this Led light remain active only for 1 second. The blinking method of this traffic light symbolizes warning for impending danger. This Solar Traffic Light can be accessed in red and amber colored LED light options. Its green colored version is occasionally used. This Solar Powered Traffic Signal Light eliminates the necessity of using electricity for its operation. The entire structure of this traffic light consists of required components like Charge Controller, Traffic Signal Blinker, Solar Panel, Signal Panel, Battery Box, Battery, Wire Harness and Signal Pole. Easy to install, this solar power operated traffic warning signal remains functional for years after years.

Solar Traffic Signal Light Technical Details:


| | |
| --- | --- |
| Minimum Order Quantity | 1 Piece |
| Color | Amber/Red |
| Emitting Area | 300 mm / 200 mm |
| Flash Frequency | 30 times / sec and can be adjusted |
| Application | Under-Construction sites, Entrance Way of Important Buildings, Road Divider |
| Solar Power (Wattage) | 12 V DC, 24 V DC |
| Lighting Type | LED |
| Certification | CE, ROHS, 9001:2015 |
| IP Rating | IP65 |

Solar Traffic Light Advantages:
This light uses non conventional power source (Solar energy) for its operation.
It acts as a feasible solution during power shortage.
It adopts Eco friendly energy production technique.
Microprocessor controlled operation
Equipped with control cable, it is considered as a reliable street furniture.
It uses VRLA battery equipped solar powered battery bank and its mechanism is similar to the operating system of solar photovoltaic cell.
The advanced module of its light is cable of producing solar energy in the form of electricity directly from sun rays.
It uses single or more than one module to produce solar energy from sunrays.
The number of its module is decided on the basis of power requirements and availability of sun rays.
This light is convenient to fit and it does not require any external wiring for its installation.
Completely protected against harsh weather, this light has long working life.
It uses standard grade solar panels.
It is equipped with mechanically operated Dawn/Dusk switching option.
It is equipped with white colored LED light with high luminous efficacy rate. This led light remains functional for 50,000 long hours consistently.

Additional Information:
Item Code: TRF-300-YR-12
Minimum Order Quantity:: 1 Piece
Pay Mode Terms: L/C (Letter of Credit),T/T (Bank Transfer),D/P,D/A,Other
Port of Dispatch: Transport, Courier, Airways, Cargo
Production Capacity: 2000 per month
Delivery Time: 4 To 5 Days
Packaging Details: The offered item is properly packed in durable corrugated box and is sealed with self locking strip. It is thoroughly covered by water proof plastic.